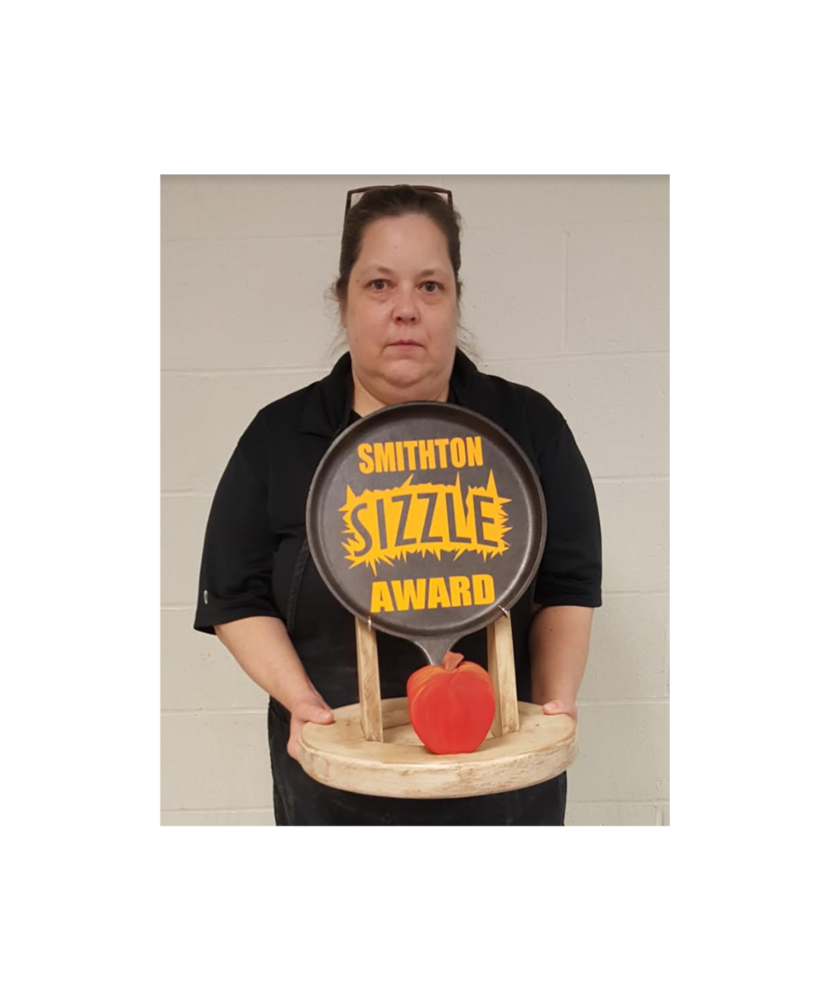 Mrs. Valarie Schultz Won the May 2019 Sizzle Award
Juss Doyle and Lyla Bybee
Tuesday, May 07, 2019
The winner of the May 2019 Smithton Sizzle Award goes to Mrs. Valarie Schultz! Mrs. Valarie Schultz wins this award for exhibiting:
People: To say Valarie values the people of Smithton and works collaboratively in support of our students is an understatement. She generously gives of her time, efforts, and kitchen space in support of numerous school events both during the school day and after hours.

Excellence and Accountability: The Food Service Program is subject to multiple Pettis County Inspections (2 per school year), a complete state review every 3 years (the equivalent of an IRS audit) and countless Federal Regulations. Val navigates through this labyrinth of oversight while improving the variety and health of foods offered to students and staff.

Innovation: Whether the innovation is one she initiates or not, Valarie is always willing to work to support a new idea. The "sharing" refrigerator is just one example of Valarie's commitment to be innovative in serving our students.

Wellness: Valarie works to encourage health and wellness among students and employees as she adjusts what and how food is offered in the cafeteria. She is continually striving to create healthy offerings and meet expectations while maintaining an enjoyable menu.
Thank you, Mrs. Valarie Schultz for your People Skills, Excellence and Accountability, Innovation, and Wellness. The Smithton School District is so lucky to have somebody like you with us! Thank You!