EDIT MAIN
PTO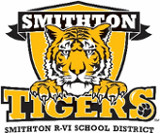 Your Smithton PTO would like to welcome you to the 2017-2018 school year. The PTO is an organization comprised of any adult family member of a student currently enrolled in Smithton School, as well as all staff, faculty, and administration members of the school.
The PTO consists of a board and the members. The board this year is as follows:
President – Terrinda Miller
Vice President – Samantha Bradley
Secretary – Angela DeHaven
Treasurer – Lori Holem
The members are YOU! Without the members the PTO would not exist. For the PTO to be effective and truly representative of the school, it is essential to have involvement from as many parents, staff, faculty, and administrators as possible.
During the year we have 4 major fundraisers: Discount cards, Fall/Winter Concession Stand, Spring Carnival & Box Top collection. These bring in the funds to help us provide programs & support for the school. Last year we were able to help support and/or pay for Field Trips, sets of Mark Twain Award nominee books for all the 4th, 5th, & 6th grade classrooms, all school access to BrainPop, more Chromebooks, 4 College Scholarships, HS Banquets and Elementary Family Night, and much more.
Raising funds and providing support takes is a group effort. Volunteering doesn't mean a huge time commitment. An hour or two here and there makes a big difference. We have jobs to fit your time schedule and interest. We even have tasks that don't involve coming to the school at all. Won't you join us? It's easy and it really makes a difference.
Terrinda Miller,
PTO President
Email: smithtonpto@smithton.k12.mo.us